Junebug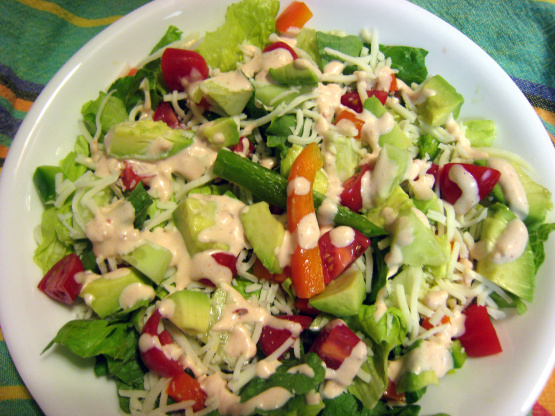 I got this recipe off a dear friend in Hawaii. This is an awesome salad - great by itself or as a side dish.

A very tasty salad which we enjoyed with Recipe #340714, and lamb kebabs made with Recipe #171661 on a bed of Recipe #289258. I used kalamata olives and cheddar, I omitted the salami (but will make sure I have some next time), used honey ham (I wasn't at all sure what dak ham was), added some red pepper and included one of the suggested variations: avocado. I love the versatility that this recipe provides and intend making it for take-to-work lunches. Thank you for sharing this recipe. Made for 1-2-3 Hit Wonders.
Clean all the veggies and cut up as desired. Use the amounts you'd like in your salad.
Variations:.
Avocado, peeled and sliced.
Provolone cheese, sliced and cut up.
Monterey and Cheddar Cheese, sliced and cut up.
Broccoli, cut up into bite size pieces.
Green Peppers, sliced.
Green Onions, chopped.
White Onions, diced.
Turkey Breast, sliced and cut up.
Honey Ham, sliced and cut up.
Top with croutons and your favorite dressing!