Tomatoes With Roasted Garlic, Pearl Onions and Mozzarella Cheese
Rita1652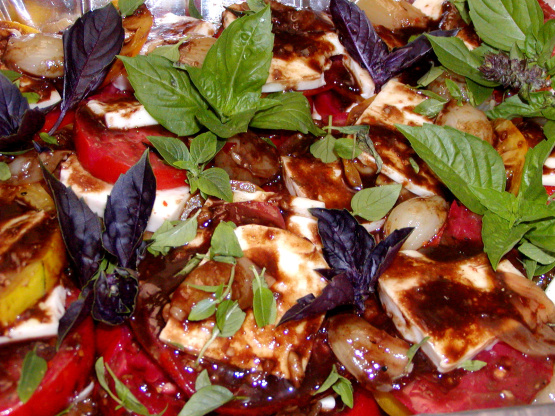 Garden Fresh Juicy Sweet Summer Tomatoes topped with roasted sweet garlic, roasted sweet pearl onions, mozzarella cheese and fresh basil. Splashed with olive oil and balsamic vinegar.

Extremely good. But don't compromise and use watery, tasteless cheap mozzarella - get the mozzarella di bufala if at all possible and the tomatoes need to be of the best quality. Also I used a good quality olive oil - a litte less than the recipe states. I ommitted the rosemary as the flavours were fantastic without it. I found I didn't need anywhere near the quantity of balsamic vinegar, but its all down to person taste and the strength of your balsamic. Serve with some white crispy bread to dip up the juices this is a fantastic light lunch or starter. Buonoooooooooooo!!!
On a large platter place tomatoes slices.
Following with the rest of the ingredients. Serve and enjoy.