Tomatoes With Horseradish Sauce
Bergy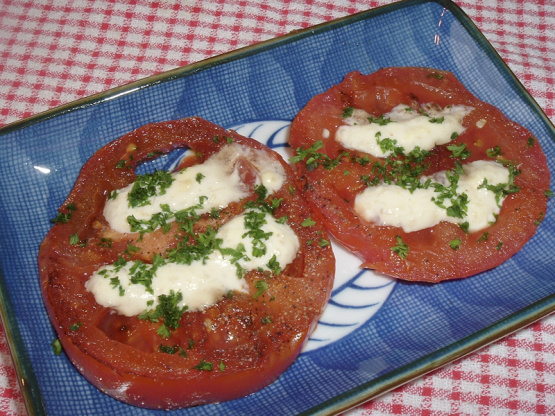 I love tomatoes...could eat them all day every day. I'm always excited when I find a new recipe for fresh tomatoes! This one came from Quick Cooking magazine and was a grand prize winner. It was submitted by Phyllis Shaughnessy. I was hesitant to try this at first but I'm so glad I did! Tomatoes prepared this way are delicious and the presentation is lovely!
Coat a large skillet with refrigerated butter flavored spray.
Heat skillet over medium heat.
Add tomato slices; cook for 2-3 minutes on each side or until edges begin to brown; Remove and place on serving platter.
In a bowl, whisk the mayonnaise, cream and horseradish; Spoon over tomatoes.
Sprinkle with parsley.