Tomatoes Stuffed With Pasta Salad
Prep 30 mins
Cook 15 mins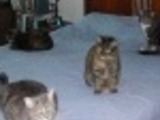 Vegetarian and French, practically a contradiction in terms! Well, I actually discovered, when I opened the newspaper to the food section this morning, that there actually are recipes like that out there! This is a recipe from La Zucca Magica in Nice, France. Brought to us by Mark Bittman, the minimalist.
Directions
Preheat oven to 425 degrees. Remove top third of each tomato. Scoop out some flesh and chop it, along with the top third. Salt inside of tomatoes and turn them upside down as you procede.
Cook yellow pepper in a tablespoon of oil with half the garlic, until soft. Break spaghetti into little bits and cook in salted boiling water just until tender. Drain and rinse in cold water.
Mix together the chopped tomato, cooked pepper, spaghetti and all other ingredients except mozzarella. Stuff tomatoes, first with cheese, then with tomato mixture. Put in a lightly oiled baking dish and bake for about 15 minutes, or until hot. Serve hot or warm.
Most Helpful
I've been scouring the net trying to find fresh, simple, French recipes, (not easy so far), and this is very nice. Ty for submitting it:)