Tomatoes Stuffed With Eggs and Anchovies
MsPia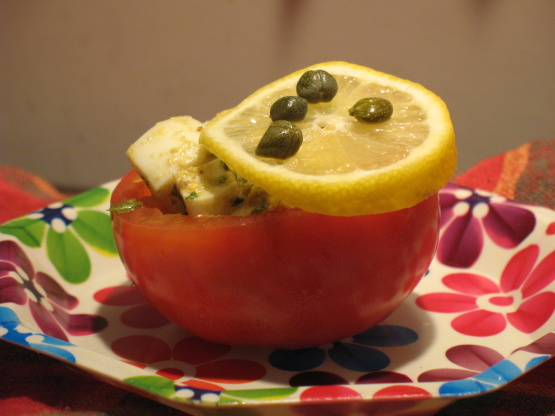 This is the only recipe among my posted that I have not personally tried, but we tomato lovers all know that a tomato is a tomato is a tomato. From The Kitchen Library.
Slice the top off of each tomato. Using a spoon, gently remove the pulp and seeds. Lightly salt the insides and then invert onto a plate for 30 minutes to drain.
In a small bowel stir together the mustard and salt to taste until well mixed. Add the oil and stir vigorously until blended. Add the flat-leaf parsley, mint, basil, anchovies and eggs, mix well.
Turn the tomatoes cut side up and place on a serving dish. Fill each tomato with one-fourth of the mixture. Place l lemon slice atop each tomato. Decorate each slice with 3 capers and a parsley leaf and serve.