nbrush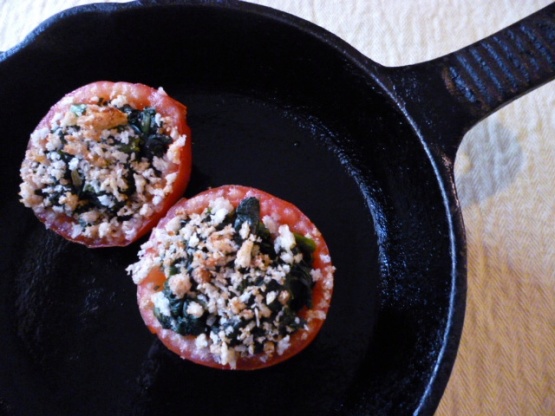 This recipe is from the Cookbook, "The Encyclopedia of Creative Cooking" Published by Weathervane Books in 1980. Edited by Charlotte Turgeon. This is one of those HUGE Cookbooks, with 2000 recipes and 800 photos. Because I don't really like vegetables very much, I stumbled upon this recipe while looking for a use for tomatoes, which I do like. I love this, and have been making it over and over. I hope you try it and like it too. BTW, I use Panko for the breadcrumbs.

Top Review by nbrush
This recipe is very easy and the flavors of the tomato with the spinach shine through the very crunchy panko crust. The tomato is especially good since it really just warms through without getting mushy, and you could make it a tasty lunch with bread and a little olive oil dip.
Place tomato in shallow baking dish, cut side up.
Mix rest of ingredients except crumbs. Divide and spread evenly over tomato halves.
Top with Bread Crumbs. (I use Panko).
Bake in preheated 375 oven 15 minutes or until crumbs are toasted and tomato is heated.