Tomatoes Roasted With Rosemary and Lemon
Rita1652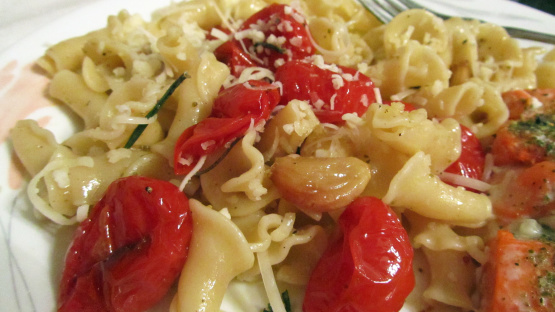 This smells as good as it tastes! Great served over pasta or rice, or scooped up with crusty bread. Adapted from Cooking Light magazine(June 2004)
Preheat oven to 400*F.
Place all ingredients in a large bowl, tossing well to combine. Put tomato mixture in a 13"x9" baking dish. Bake for 30 minutes, stirring every 10 minutes. Remove dish from oven.
Preheat broiler.
Broil tomatoes for 10 minutes or till they begin to brown. Remove from oven; stir lightly to combine.
To serve over pasta:.
Cook 12 ounces dried pasta; drain and return pasta to pan. Stir in 3 cups of the roasted tomatoes; cook over low heat till liquid thickens. Serve with grated Parmesan cheese.
Note: You may place chilled tomatoes in heavy zip lock plastic bags and freeze for up to 3 months.
Makes 10 servings.