Tomatoes & Cottage Cheese
flower7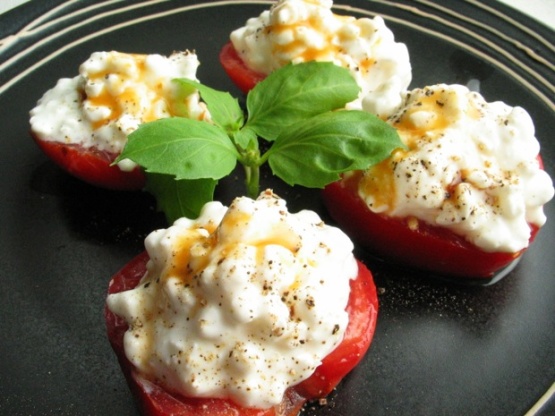 My dad has been eating this for as long as I can remember. It's his creation and I love the combination of ingredients. You can have them for Lunch or a light side dish for Dinner.

Made this for Zaar Chef Alphabet Soup ~ June - Dec 2012. This is an easy and delicious side dish. We had gone to the farmers market and picked up some fresh tomatoes and I made this as written only topping this with Cholula hot sauce. Topped with some minced chives. Simple and easy. Thank you for posting.
Arrange the four slices of tomato on a plate, top them with 1 Tbs. of cottage cheese each (you can add more if you choose); and 1 dash of each Tabasco and Worcestershire sauce on each slice of tomato. Add salt and pepper to taste. Enjoy!