Tomatoes and Peppers for Lunch
Derf2440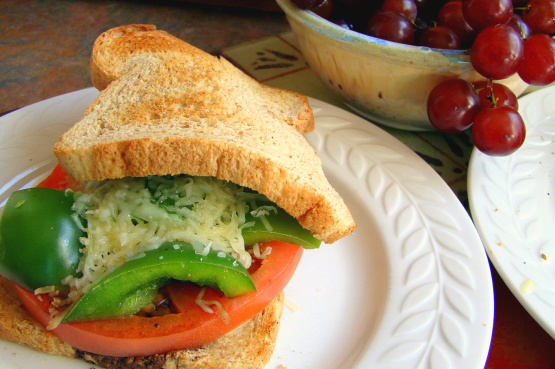 This is a great meatless sandwich that is open to interpretation! You can also make a few of these, cut into triangles and serve as an appetizer.

Nice quick crunchy lunch. I used thin cut wholewheat bread and didn't have any mozzarela so subed with a provolone mix. love the tomato sweet pepper combo and used oregano for the herb, broiled it open to melt the cheese. I will be making this often, thanks for posting.
Toast your bread.
Douse with a balsamic vinaigrette (or other favorite) Add thinly sliced tomatoes.
Add a layer of roasted peppers, any color.
Add mozzarella.
Sprinkle with herbs (thyme is good with this, or oregano) and salt and pepper.
If you want melted cheese, place in broiler for a few minutes, do not nuke it, this will make it soggy.