scancan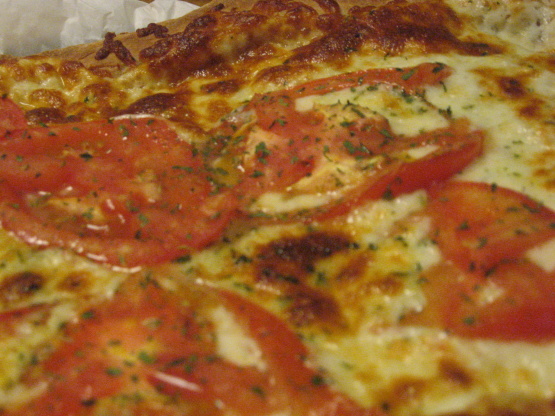 I wrote up this recipe after I had cooked it a few times and decided I liked it. I originally made the white pizza as an excuse to cook up a whole bunch of fresh garlic and tomatoes that I had gotten from a farm. I use generic pre-made pizza crusts because I don't have time to make my own crust. If you get a decent brand they still come out great. The kicker is the salt and olive oil underneath all of the cheese, it makes for a very moist and almost sauce-like pizza topping. The tomatoes add great flavor, texture, and moisture as well.

Top Review by BeIIa
Yum!! I bought a round store made pizza shell. Made half the regular way (sauce and cheese) for the kids and the other half this way. Which only gave me and hubby 2 pieces each - we both wanted more!! I usually don't eat more than 1 piece! I sprinkled a little garlic powder and basil over the tomatoes and also added a few sliced banana peppers. Served with a tossed salad. What a great meal - thanks!!
Start w./ pizza crust. Cover lightly with olive oil (I drizzle it across the whole thing, then smear it around with my hands so there is a thin layer of olive oil across the whole crust.
Put minced garlic on pizza crust, spread around until evenly covered.
Lightly salt.
Cover with cheese. Cheese should not be too thin, just a single layer of shreds thick.
Lay sliced tomatoes on pizza. I like to cover as much area as possible, but do to taste.
Grate romano cheese over the tomatoes. Fairly thin layer.
Sprinkle parsley flakes on top.
Bake at 350 for 15-20 minutes until crust is golden brown.