Thorsten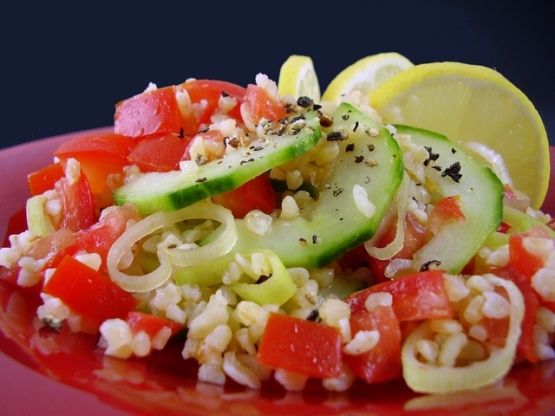 This is also a salad "on-the-go" because it fills into halved pita bread very nicely.

This is such a delicate salad and it is made within seconds. And the taste is wonderful and fresh. The basis of this salad is bulgur wheat, which blends all the flavors very well. The lemon juice adds the freshness and supports the flavors of tomatoes, cucumber, green onions and bulgur. As suggested I served it also in a half pita bread (Recipe #81116) with a hot mexican styled sauce and this was outstanding good. In this combination the salad is sensational. Chill the salad before use, because the falvors will be blended even more and it taste so refreshing. How many stars can you see at night? Take the brighest for this salad and thank you for sharing.
Combine buglar& water. Cover & let stand until all the water is absorbed.
Combine bulgar & rest of ingredients & toss.
Chill well before serving.