Lori Mama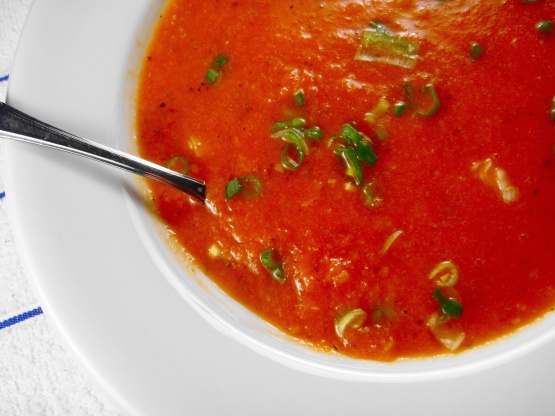 "Found em!" I shouted to anyone that might be hovering near the country road mile we live on. A light rain shower just started, and there I was standing in the garden hunting down the last tomato that might be hiding. I found a couple of tomatoes nestled down beneath the sweet potato vines, large pepper plants leaves, and the numerous weeds that had continued to sprout even in the cool Fall weather. Mud was already caked to my old garden crocs, and my hands were also full of mud. Dexter the Mastiff sat quietly beside me, and was trying to stare down a brown caterpillar that was making it's way slowly across the earth. I turned, quickened my step down the dirt road with the dog beside me, carrying a half of dozen various sized tomatoes tettering in my arms and trying not to drop any along the road to home. I really wanted some tomato soup, and I just knew it would warm me up and Dex too. This recipe uses canned tomatoes, or you can use fresh ones too, like I did. I just peeled the tomatoes, put em' in the pot and went right along with the recipe from there. This recipe was loosely adapted from Cooks Illustrated.

OMG! Andi my dear, I really took a flying leap of faith with this recipe. I despise tomato soup while my guys merely hate it but I had some canned tomatoes that had been lingering around. I thought "Andi has never steered me wrong and if I'll ever like a tomato soup it will be hers". I put it off for a couple of weeks after tagging it but this morning I just bit the bullet and made the soup. My first tentative sip was an eye opener, WOW - this is delicious! The guys came in and were told that there was hot soup on the stove. The pot lid went up and there was silence then DH ask "What is it?". One word "tomato", them came a duet of moans and groans. DH ask "is this what your eating?" "yes". He made DS take a teaspoon that he really didn't want then his eyes got like saucers as he said "I like it, Mom this is GOOD!". DH then has a taste and the two of them cleaned up the rest of the pot while I was working. Andi, you have made tomato soup fans out of this family. I used whole multi grain bread and we all loved the texture, I choose the veggie broth option, yum. I'm sure that a large part of us loving it is that it isn't a horrible "Cream of" soup. What a wonderful experience you gave us along with a recipe that I'll keep and use again and again. Tagged in Veg Swap 30.
Heat 2 tablespoons oil in a soup pot, warmed over medium-high heat.
Add onion, bay leaf, and garlic.
Soften vegetables for 3 minutes.
Add tomatoes and their juice, and broth.
Mash up tomatoes with spoon of potato masher.
Stir in torn bread.
Add the Italian seasoning or oregano.
Bring to just below a boil, reduce heat to med/low and cook till warmed, (not boiling).
Add salt and pepper to taste.
Remove bay leaf.
Carefully scoop 3/4 cup tomato mixer out and run through a blender for a couple of seconds until mixed. Put pulsed tomato mixture in a bowl until all the tomato mixture is pulsed. (or use a hand mixer in pot).
Warm again to piping hot in soup pot, dish into a cup to carry around with you, or in a soup bowl. Add toppings as desired. Drizzle with oil as desired.