Tomato, Sausage and Cornbread Bake #Ragu
Kirk Y.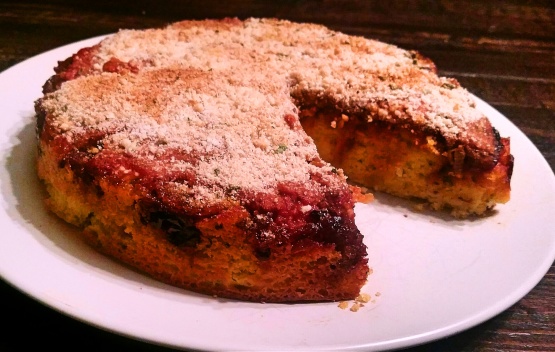 Ragú® Recipe Contest Entry. Ragu tomato sauce brings out the spicy flavor of Italian sausage and caramelized onions baked on a cornbread base.
preheat oven to 375°.
cook sausage in pan, drain on paper towel. wipe pan clean with paper towel.
place oil and onions into pan, sprinkle with sugar. add garlic and cook until onions are caramelized.
in a bowl mix cornbread mix, milk, sour cream, salt, egg, and cilantro.
spray an 8" pie pan. spread onions and sausage evenly on bottom of pan.
place cheese on top of sausage / onions.
then spread 1/2 cup Ragu sauce on top.
pour cornbread mixture on top, spreading evenly.
bake for 25 minutes.
let set for 5 minutes, then invert onto plate and slide onto sprayed baking sheet. Cornbread is now on bottom.
spread remaining Ragu sauce on top of onions/sausage.
Sprinkle bread crumbs and parmesan cheese on top.
bake for an additional 5 minutes or until bread crumbs are browned.