Tomato Salsa (Salsa Cruda)
DLeddco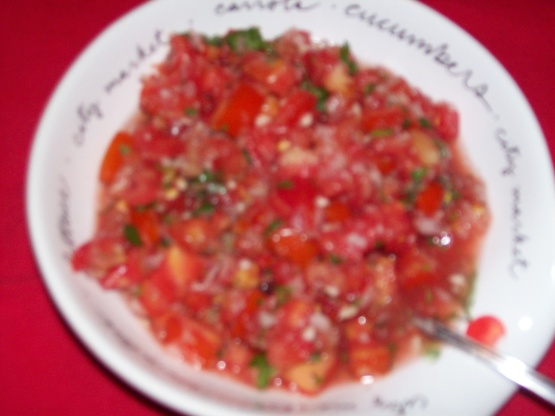 Taken from The Best International Recipe, posted for safekeeping. Tastes best the day it is made.

This salsa is terrific! Thank you for sharing!
Set a large colander in a large bowl.
Place the tomatoes in the colander and let them drain for 30 minutes.
As the tomatoes drain, layer the jalapeno, onion, garlic, and cilantro on top.
Shake the colander to drain off the excess tomato juice; discard the juice and wipe out the bowl.
Transfer the contents of the colander to the now-empty bowl.
Add the salt, pepper, and 2 teaspoons of the lime juice and toss to combine.
Season with the minced jalapeno seeds, sugar, and additional lime juice to taste and serve.