Tomato Salad With Olives and Onion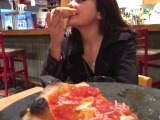 When tomatoes are in abundance here's a unique salad recipe you may want to try. The original came from Bon Appetit and suggested adding Feta. My family prefers Mozzarella so whatever cheese you want to use would be up to you, or leave it out altogether. Great summer-time tastes!
Directions
Cut the tomatoes into bite-size pieces.
Chop the onion.
Rough chop the olives.
Mix with olive oil and vinegar.
Season to taste with the pepper.
This is when you can add whatever cheese you like.
Let stand at room temperature and serve.
Most Helpful
Very nice! I enjoyed a nice salad(I scaled the recipe down to 1 tomato)! Loved the balsamic vinegar in it. Thanks! Made for Vegetarian Swap-April 2009.

Had MUCHO Roma tomatoes VERY ripe. This was quick, easy and VERY tasty !! Will be serving this frequently all summer. Thanks for posting, Trinkets.

With my tomatoes rippening on the vine, I just knew I had to try this recipe. I certainly wasn't disappointed. We loved the saltiness of the kalamata olives...a perfect compliment to the tomatoes and onions. Wow this was good. I added some "fresh" Mozzarella because I had some on hand. This also makes for a great presentation too....very pretty. Thanks Trinkets, this is a winner.