Tomato Salad With Mustard-Basil Dressing
lazyme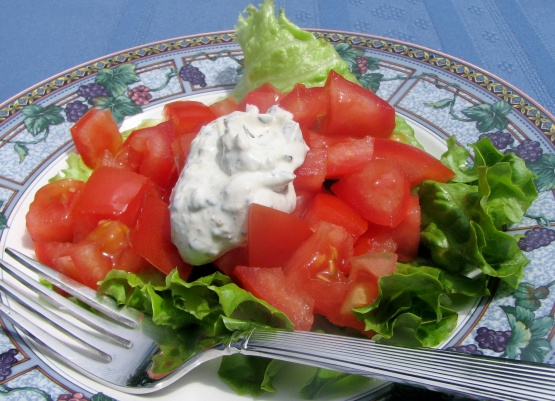 Hungarians like to "dress" up their tomatoes with sour cream and lots of cheese. This is a slimmed down version .

The only thing I can figure is that maybe it did not refrigerate as long as it should. I am not a yogurt fan but DH is. I put in fridge for 3 hours & I'm sorry but neither of us enjoyed the dressing. The yogurt was so dominate I didn't taste the other ingredients. Made for your Football week 16 win.
In a small bowl, combine all ingredients, except lettuce and tomato. Mix well. Chill several hours to blend flavors.
To serve, arrange lettuce leaves on four individual serving plates. Chop tomato and pile on lettuce. Spoon dressing over tomatoes, allowing 2 tablespoonfulls for each serving.
Serve right away.
Time does not include chilling time.