Tomato Salad With Goat Cheese
Parsley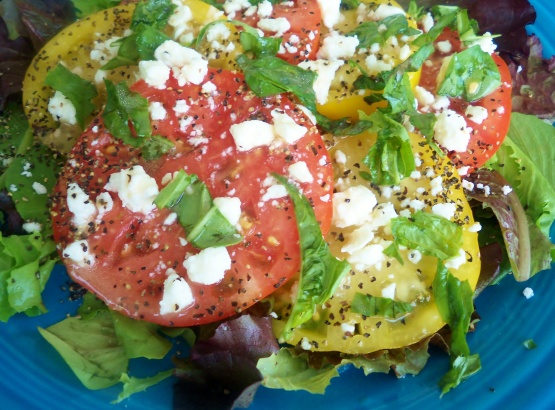 Recipe from French Women Don't Get Fat. This is a really refreshing and surprisingly filling recipe which is perfect for the summer. I served it with fresh mussels in a white wine sauce and a crusty bread. Bon Apetit!
For the Salad

mesclun or any mixed salad green, about 1 cup per person

4

large tomatoes, washed and sliced

8

ounces fresh goat cheese
salt and freshly ground pepper

4

tablespoons parsley, chopped at the last minute (or basil)

For the Salad Dressing

2

tablespoons minced shallots

1

teaspoon mustard

2

tablespoons vinegar

6

tablespoons olive oil
Cover each plate with a layer of mesclun or mixed greens. Place sliced tomatoes on top. Salt generously.
Mix the dressing ingredients into an emulsion.
Crumble the goat cheese onto the tomato slices.
Season with salt and pepper to taste.
Pour dressing on top lightly and add the chopped parsley or basil.