Tomato Salad With Fresh Basil Dressing
Juenessa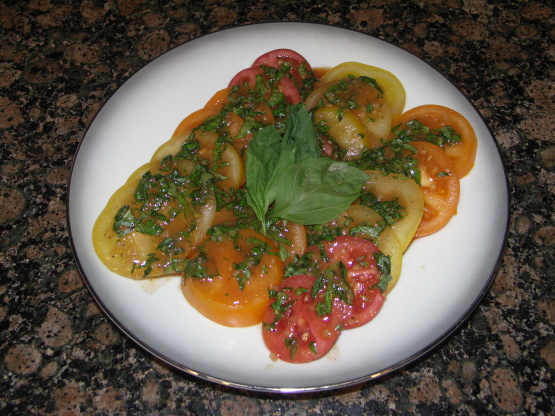 This simple, yet terrific salad is served at Kariwak Village Hotel in Tobago. The recipe was featured in "Island Life" magazine. Delicious.

Delicious!!!! The only thing I changed (for simplification) was to throw everything including the basil into the cuisinart to blend it all together. I then substituted olive oil for the vegetable oil as I think olive oil and basil are meant to be together. But the flavours are outstanding together. Try this tonight, you won't be disappointed!
Whisk all dressing ingredients together except oil and basil.
Drizzle in oil, whisking constantly.
Add salt and black pepper to taste.
Stir in basil.
Arrange tomato slices on a salad plate and spoon dressing over slices.
Cover and chill.
Garnish with fresh basil leaves.
If you desire serve over fresh bed of lettuce.