Tomato Salad With Cucumber and Feta
Juenessa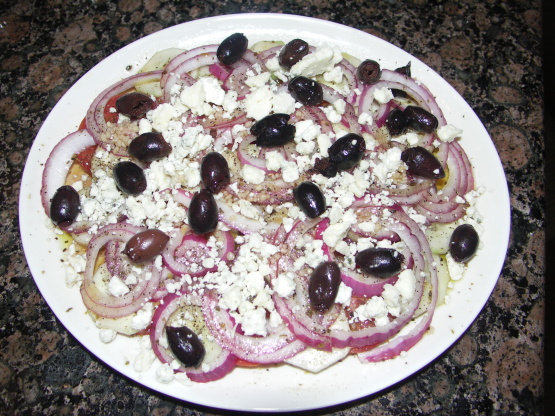 Serve this on a large fancy serving dish and sprinkle generously with salt and pepper. I have served this many times at my dinner parties... not only is this beautiful to look at, it is absolutely delicious!. Olives can be replaced with capers if desired, and oregano can be replaced with fresh basil. Plan ahead this salad needs to be left out at room temperature for 1 hour or refrigerated for 3 hours before serving. Another variation for this salad is layer mozzarella cheese in between the veggies and omit the feta, it is just as good both ways, but I have to say that the feta is better. Be certain to only use an firm English cucumber for this, otherwise the salad will get watery. This salad should serve up to 6 people, increase all ingredients if serving more. If you are serving this chilled I strongly suggest to let the salad sit out for 1 hour at room temperature before serving, the tomatoes will soften and taste better, tomatoes really should not be refrigerated, they permanently loose their taste and texture. You will love this salad!

Our favorite restaurant in Dallas is III Forks. They have a wonderful tomato and onion salad with a blue cheese vinagrette that I always look forward to having. Well, when I tasted this salad, it blew III Forks right out of the water! This is one of the most wonderful salads that I have ever had. I cannot believe that I am able to make this kind of salad from home! The only thing I changed was to use blue cheese instead of feta cheese, because we prefer it over the feta. Kit, I took your suggestion and used Kalamata olives. This is something I will be making again. It also made a beautiful presentation and would WOW company.
In a large serving platter overlap tomato, onion and cucumber in a decorative pattern.
In a small bowl whisk together oil, vinegar, oregano, chopped garlic, salt and black pepper.
Drizzle over the veggies on the plate and let stand for 1 hour at room temperature or refrigerate for minimum of 3 hours (basting occasionally with the dressing).
When ready to serve sprinkle with feta cheese and olives.
Delicious!