CandyTX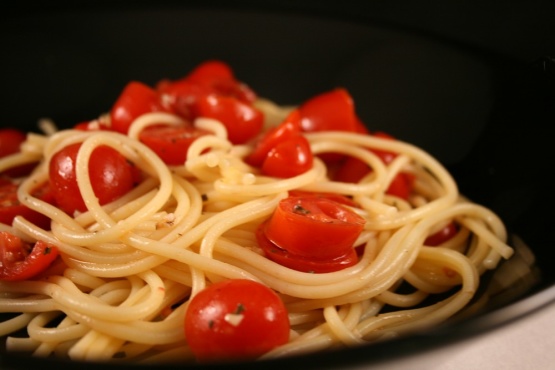 To me, there is nothing like a garden tomato, ripe and juicy. I can't bring myself to eat tomatoes when they're not in season, and wait all year for the harvest from my parents' garden. This is just one of the many ways I like to use them.
In a small skillet, over medium-low heat, heat 1 T. of the oil. Add garlic and cook; stirring constantly, for about 3 minutes. Do not brown. Transfer to a large bowl.
To the garlic in the bowl, add the tomatoes and their liquid, the remaining 3 T. olive oil, basil, vinegar, salt and pepper; mix well. Let stand for 1 hour for flavors to blend.
Just before you are ready to serve, cook spaghetti according to package directions; drain. Turn into a large pasta bowl, add the sauce, and toss to coat. Add Parmesan cheese to taste and serve.