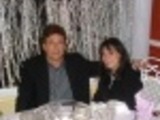 To me, there is nothing like a garden tomato, ripe and juicy. I can't bring myself to eat tomatoes when they're not in season, and wait all year for the harvest from my parents' garden. This is just one of the many ways I like to use them.
Directions
In a small skillet, over medium-low heat, heat 1 T. of the oil. Add garlic and cook; stirring constantly, for about 3 minutes. Do not brown. Transfer to a large bowl.
To the garlic in the bowl, add the tomatoes and their liquid, the remaining 3 T. olive oil, basil, vinegar, salt and pepper; mix well. Let stand for 1 hour for flavors to blend.
Just before you are ready to serve, cook spaghetti according to package directions; drain. Turn into a large pasta bowl, add the sauce, and toss to coat. Add Parmesan cheese to taste and serve.
Most Helpful
I used whole grain pasta and it was so good with the fresh, juicy, tomatoes. Summer on a plate, how can you beat that?

This was pretty yummy. Next time we might cook the tomatoes lightly with the garlic, but as is, this was still absolutely wonderful. Thank you for sharing. Made for ZWT

This was outstanding!! Me and my daughter love tomatoes so this was right up our alley! I used fresh from the garden tomatoes (2 types) and basil. This was so easy to make. I would serve this to company. Thank you so much for posting!! ETA-Great the next day !! nummy-nummy!!!