Bergy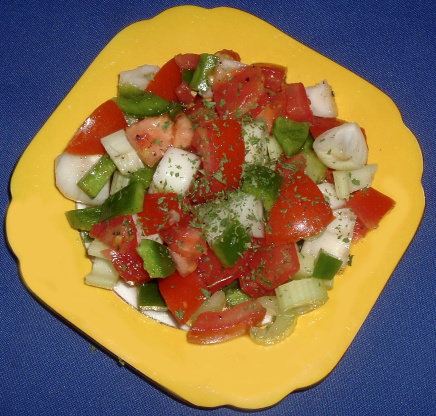 I Love a do ahead salad - this one is so easy and has a very refreshing taste.Great for a picnic or BBQ

I make my tomato salad a lot like this one, only I put bottled Italian dressing over it, and leave out the honey, cloves, and cilantro. I have used canned tomatos in the winter, and fresh peppers and had it come out just wonderful. My husband asks for it often.
Combine the tomatoes, onions, peppers & celery in a bowl.
Whisk the vinegar, honey & cloves slowly while drizzling in the the olive oil.
Season with hot sauce, salt & pepper.
Mix into the salad and let it rest in the fridge for at least 4 hours.
Let it stand at room temp for about 20 minutes before serving.
Drain salad and sprinkle with cilantro.