Tomato Relish, Aussie Style
Debbwl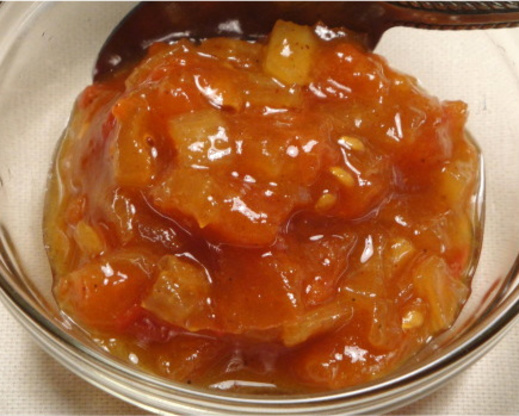 This is the best selling, fabulous tasting, world famous Tomato Relish as made by the "Boonooroo Brown Paper-bag Ladies" This is REALLY like granma used to make. If I buy "cooking tomatoes" and they are very pale, I add a small tub of tomato paste. You can add garlic, or herbs to this recipe, but I dont find it needs it. I always double this recipe, cause I am constantly being asked for it :) I use good quality brown vinegar, but the my fellow Bag Ladies use the generic stuff.

Top Review by Debbwl
A nice tomato relish that is very easy to make. Sweet and tangy all at the same time making it a nice side. Made as written cutting down to 2 jars. Read your note about adding tomato paste and wished I had some to add. Thanks for the post. Updating my review from a four star to a five star because DH liked so well he asked to take as part of his lunch. Will make again and add tomato paste. Thanks again.
skin tomatoes, cut in cubes, place in bowl.
Peel onions, chop finely, place in separate bowl. Sprinkle each with one tablespoon salt and leave overnight.
Next day place tomatoes , and the onions together in a saucepan.and their liquid.
Add sugar, stir over low heat until sugar has dissolved, increase heat, bring to boil, boil, 5 minutes
Combine curry, chilli and mustard, mix to smooth paste with a little vinegar, add remaining vinegar, add to saucepan and stir to combine thoroughly. Bring to boil and boil uncovered for 50 to 60 minutes, or until thick.
If necessary, (and it probably is ) thicken with 3 tablespoons of cornflour mixed with a little vinegar.
Pour into hot sterilized jars and seal.