KristinV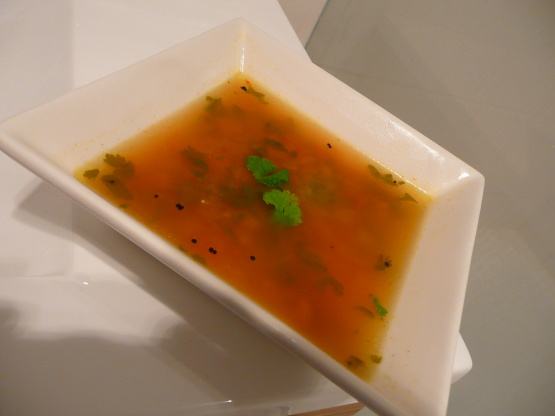 This is officially my cold fighting soup. If you are a spice lover keep it as is because it will clear any congestion right out. If you are heat sensitive, you might want to tone the chilli down a bit.
Puree the quartered tomato with the garlic in a blender of food processor. Set aside.
Bring the water to a boil in a medium saucepan. Add the chopped tomato, the ginger, cilantro, and green chile. Turn the heat down and simmer 3 minutes.
Add the tomato-garlic puree, the curry or rasam powder, cumin, black pepper, and salt and simmer 5 minutes.
For the tempering oil.
Combine the oil and mustard seeds in a small frying pan or saucepan over medium-high heat. Cover (the mustard seeds splatter and pop) and cook until you hear the mustard seeds crackle, 1 to 2 minutes. Add the chiles and cook uncovered, stirring, until they start to brown, about 30 seconds. Pour immediately into the soup and stir. Serve hot.