A delicious and tangy dish from Bangladesh found in Vegetarian Quick and Easy.
Directions
Mix all ingredients together and serve as a relish or snack.
Most Helpful
This was a great savory yogurt. I used already ground cloves and already ground cardamon, and 1 pint grape tomatoes. Also used 2% Greek yogurt. Made for ZWT 6 Diabetic challenge. Must admit, BF did not like this as much as I did, but he's not reviewing it! He was not displeased with it either and ate half and was happy. :)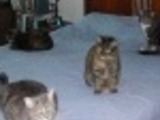 A quick cool vegetable dish. This is nutritious and easy. I would use a little more of the spices next time. I used roma tomatoes; it might be good with a sweeter variety. The raita should best be used soon after it's made, as the tomatoes got mushy after storing in the refrigerator.

This was very cardamom flavoured. Maybe my pods were really fresh? I used ground cloves & omitted the chili powder as I think it meant the hot type, I used sea salt, to taste, plus the rest of the ingredients. Also isn't raita meant to cool the palette? Made for "I've saved all these recipes!" March Diabetic Tag.