loof751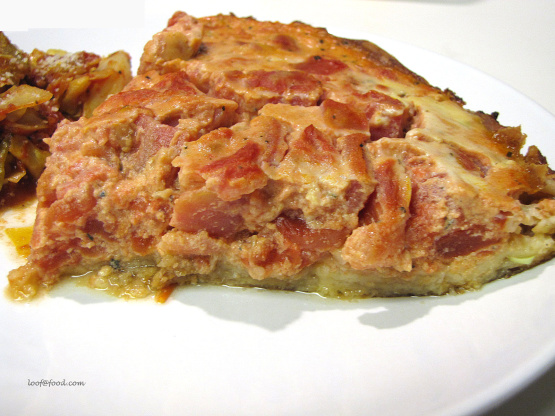 This is for Zaar World Tour for the France/Cajun region. It's from the cookbook International Meatless Cookbook by Jean Hewitt. I love posting vegetarian recipes, since it allows me and others to have meatless or vegetarian options for our meals. One thing the recipe does not say is how long to wait for between adding the tomatoes and some of the ingredients to the skillet. I would give it five minutes.

Tasty and flavorful quiche! The sauteed tomatoes add a nice full-bodied flavor. My quiche didn't hold together very well; I think I will cook the tomatoes even longer next time to make sure more of the liquid is out. Also I'll add some crushed red pepper (love the stuff) to give it a little kick. Thanks for sharing your recipe! Made for Spring Pick-A-Chef 2012
Place the tomatoes in a large heavy skillet in medium heat. After 5 minutes add the onion, and te seasonings, stirring occasionally, until it becomes a thick puree, about 30 minutes.
Preheat the oven to 450°F.
Prick the shell with a fork and bake in oven for 12 minutes or until golden. Cool slightly and sprinkle with cheese. Reduce heat to 375°F.
Beat the eggs and gradually add the cream. then add sugar and tomato puree mixture. Pour into the baked pie shell and bake 40 minutes.
Let cool 10 minutes, before cutting. If you wish you can garnish with extra tomatoe slices that have been sauteed.