Bergy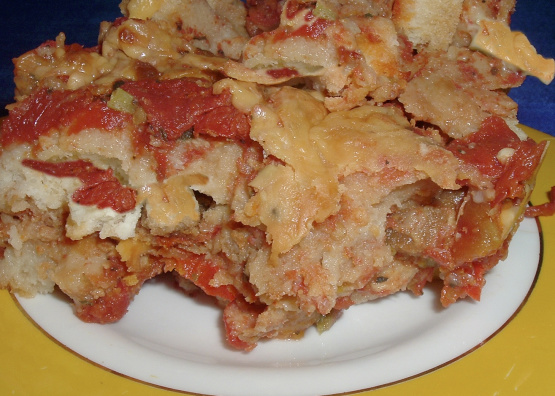 This is a recipe from my cousin who got it from a caterer she worked for some years back. If you're a tomato lover, you've got to try this for a side dish that goes with ANYTHING!!!

Top Review by Bergy
I rarely gamble with an untried recipe when doing a neat luncheon for friends but I was so sure of your recipe I did- Well was I dis appointed ? Heck no. I did add a jalapeno as well as the hot sauce and 2 garlic cloves. It has a lovely texture and rather than Pudding I would say a comfort casserole. I served it wi th Asparagus Crepes, steamed carrots, crusty bread and a lot of love Thanks crispychick for a winner
Preheat the oven to 400 degrees.
Butter a 2 quart casserole dish and place the bread crumbs evenly on the bottom.
In a saucepan, combine the butter, onion, and bell pepper and saute until translucent.
Add the tomatoes and brown sugar, and seasonings and bring to a boil.
Put half the cheese over the breadcrumbs and pour the tomato mixture over the top.
Add the rest of the cheese and bake until bubbly and the cheese is browned.
(about 15 minutes).