Tomato, Prawn and Spinach Salad (Low Gi)
Syrinx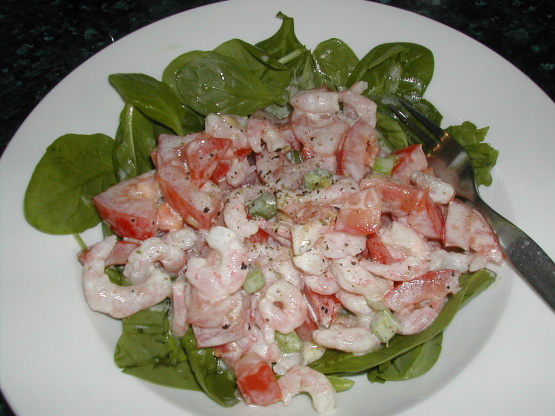 A lovely low-GI salad which is full of flavour. You can use whatever quantities you like, but make sure that the tomatoes are at room temperature (I warmed mine slightly in the microwave to take the refrigerator chill off them). My current batch of yoghurt is a little bit sourer than I like, so I have added fructose to the dressing - feel free to reduce the amount, substitute sugar, or omit it entirely.
40

g Baby Spinach (a handful)

100

g cooked peeled prawns (shrimps)

150

g tomatoes, diced (two medium tomatoes)

1

scallion, chopped

60

g yoghurt (3 or 4 good tablespoons)

1

tablespoon extra virgin olive oil

1

tablespoon lime juice
1⁄4 teaspoon herbes de provence (or other dried herbs of your choice)
1⁄2 teaspoon fructose
Arrange the baby spinach leaves on a salad plate.
Mix together the tomatoes, prawns and scallion.
Mix together the yoghurt, olive oil, lime juice, herbs and fructose, then pour the dressing over the tomato-prawn mixture and toss.
Pile the tomato-prawn mixture on top of the spinach, and top with some freshly ground black pepper.