Tomato & Potato Omelette ( Cyprus Dish )
Genianoe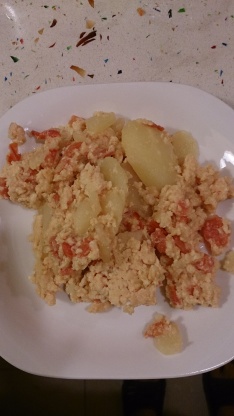 A traditional Cyprus last-minute dish called Pomilorotigania in Greek ('fried tomato'). Easy and quick to make. Serve with bread or toast.

Made & reviewed for my PAC baby! I quadrupled the recipe so that I could serve 8 for lunch - this omelette is just gorgeous! The key to this is the fact that it is just simple, clean, fresh flavours - delicious. Everyone loved their omelette & asked for me to make it again next week :) Thanks Nana for another great recipe!
Cut the potatoes into thin slices.
Deep fry them in oil in a large pan.( You can use olive oil or any other kind of cooking oil.).
When the potatoes are cooked, remove them from the pan.
Throw away the oil, leaving just a few drops of oil in the pan.
Put the pan back on the stove and add the tomatoes.
Simmer for a few minutes and season.
Add the potatoes and the eggs and stir until the eggs are cooked.
Remove from the pan and serve.