Tomato Potato Cheddar Soup
Nasseh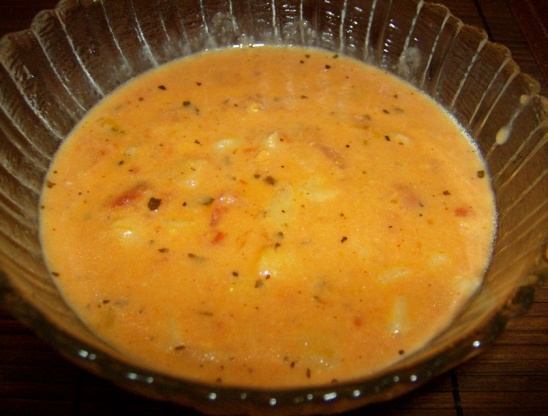 This is a favorite of my DH. He always askes for this one. It is meant for Vermont White Cheddar, but any strong cheddar will do. It does take some time, but it is well worth it. Makes a large batch. Given to me by my aunt.

This is a delicious, easy to prepare soup. Nice blend of flavors. We used low-sodium soy sauce, and skipped the tabasco. Made for Potluck Tag. Thanks for posting MsSally!
In large stock pot, bring beer and broth to a boil. Add potatoes, bay leaves, basil and oregano. Boil for about 30 mins or till potatoes are soft, stiring occasionally to prevent sticking.
Melt butter in a large fry pan. Add onions, celery, carrots, garlic and tomatoes. Simmer on low till very soft and pasty. This may take 20 to 30 minutes.
Add remaining ingredients except for cheese to tomato mixture, mix well. Add the tomato mixture to the potatoes and add cheese. Bring back to simmer long enough to heat through.
Remove bay leaves and enjoy.