Ambervim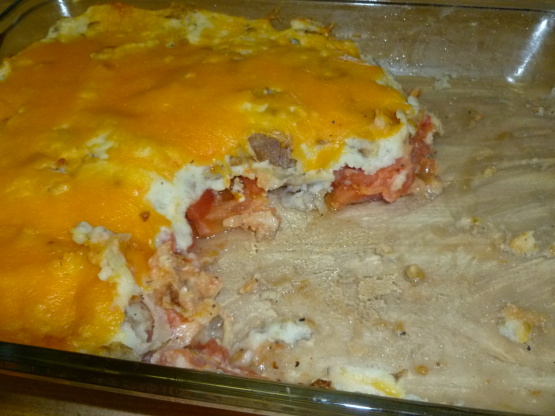 I grew up on a farm. There were 10 of us kids and our parents and nothing was wasted. When and if there was leftover mashed potatoes and sliced tomatoes,(and we tried to leave some cause we liked this) Mom would make this tomato pie. Then again, she would sometimes threaten to make potato cakes if we didn't eat all the mashed potatoes. We would clean them up cause we hated potato cakes!

This was quite tasty but just too soupy and neither the tomatoes nor onions had cooked enough for our tastes in the 20 minutes recommended, even though I cooked it an additional 10 minutes. Next time I will stew the onions and tomotes a little, thicken them, then add the mashed potatoes and bake as recommended. Did sprinkle a little fresh sweet basil on top of the tomatoes and it gave it a wonderful zing.
Peel and slice tomatoes.
Place in shallow, well-buttered baking dish.
Spread grated onion, melted butter, sugar, salt and pepper over the tomatoes.
Spread mashed potatoes over top and sprinkle top with grated cheese.
Bake at 375° for 20 minutes or till potatoes are browned.
You may garnish with a little chopped parsley.