3 Reviews
I made these last night to go along with a steak dinner and they were a hit. These are a winner in my book and we will make them often. Great blend of flavors!

Beautiful when made.These looked great a excellent side dish .Kind of reminded me of mary poppins...perfect in every way.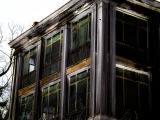 We loved this creative, taste sensation for a lovely lunch. The sweet/savory combination was what intrigued us and the chopped mint really made the dish special. Other than adjusting some of the cooking times to accomodate the size of my vegetables, I followed the easy to understand instructions and got perfect results. I can't wait to make this as a starter for my next dinner party. Congratulations to the chef for an excellent recipe.

Tomato & Pepper Dolmas