Cangunjr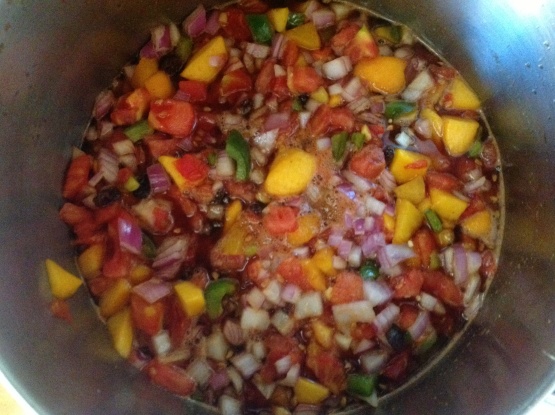 A chunky chutney of tomatoes and peaches in a sweet spiced sauce that will go well with pork chops or poultry. Adapted from a popular cooking and recipe magazine's newsletter.

I like the combination of tomatoes and peaches; the peppers were a strong enough addition to the taste that I think if I make it again, I'll cut back on the peppers for a more balanced taste. The combination of sugar, curry powder and ginger was interesting and different.
Combine all the ingredients into a large saucepan.
Stirring frequently, cook over medium heat for approximately 1 hour or until mixture has thickened.
Ladle the chutney into hot jars leaving 1/4 inch headspace and adjust caps. Process for 20 minutes in a boiling water bath.