Tomato-Pattypan Squash Salad
WiGal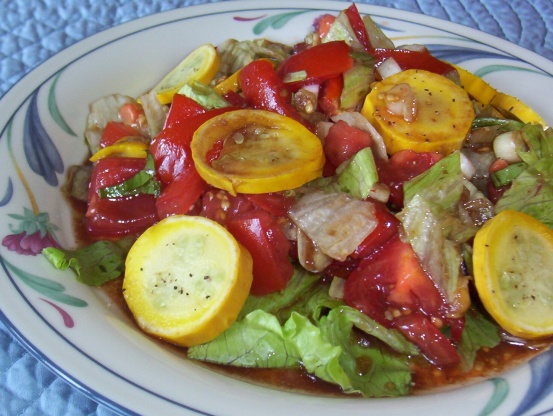 Combining small red tomatoes and baby squash, with a yummy dressing, this makes a colorful and delicious summertime salad!

Top Review by WiGal
I made ours with yellow squash, lemon juice, and green onion (instead of scallions). Love the colors and the tarragon! I quartered the recipe, but there was a lot of dressing. I am a bit confused about the arugula and put in some chopped lettuce and wish I had put in more. It is a tad tricky for me to rate this recipe b/c DH does not care for yellow squash or zucchini unless it has something crispy also in it to camouflage it. Thanks for sharing. Made for PRMR tag.
Cook squash in a large saucepan, covered,in enough lightly salted boiling water to cover until tender, about 5 minutes. Drain. Cool vegsetables by adding cold water and ice cubes to pan; drain well.
Combine the drained squash, tomatoes and herbs in a serving bowl. Add lettuce of choice if desired.
In a screw top jar, combine remaining ingredients. Cover and shake well. Add half to salad; toss to coat. Season to taste with additional salt and pepper, if desired. Pass the remaining dressing Enjoy!