Rita1652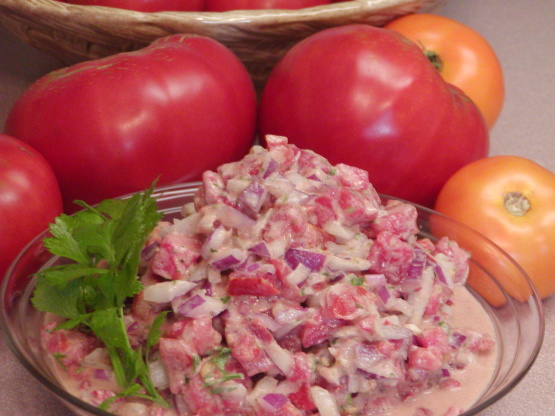 from today's ny times, and your garden.

I used a red onion, 1 whole garlic clove, 3 very large tomatoes and skipped the lettuce. I put the garlic, tahini, cumin, parsley in the blender (Vita Mix) and added 1 tablespoon tomato juice from the fresh cut tomatoes instead of the hot water. I also used Heather's seasoning salt for the salt and pepper. At first I was worried to make this I thought the tahini would be to strong but I was wrong. It `s not eye appealing but it `s very good.
Soak onion in salted cold water while preparing other ingredients, about 30 minutes.
Whisk or blend together garlic, tahini and cumin, and add lemon juice; the mixture will become very thick.
Thin with hot water, a tablespoon at a time, just so the mixture can be spooned.
(It will thin further when tossed with tomatoes).
Season to taste with salt and pepper.
Toss onion, tomatoes and parsley with dressing.
Taste, adjust the seasonings and serve over lettuce leaves.