Tomato-Mozzarella Tagliatelle Timballo
Diana 2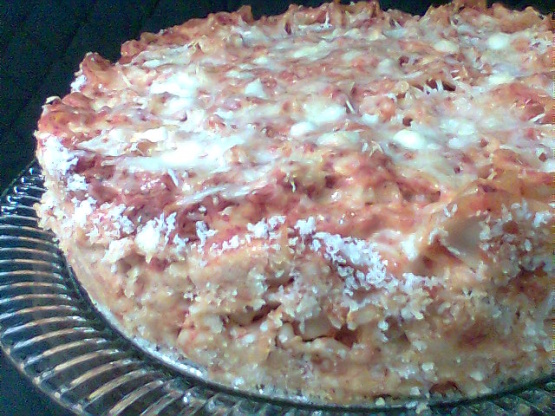 I subscribe to a neat magazine called "The Week", which is the weekly version of "USA Today" There is always a recipe which is different from anything we usually eat. Loved the looks of this - was a tad daunted by the ingredient list, but after setting up everything before starting, went together easily. Made a lot for 2, but re-heated nicely. I always use more grated cheese in recipes, than listed.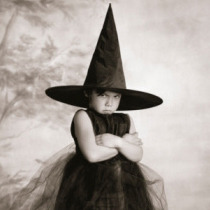 This is very impressive and so easy to make. Love a recipe that looks like you slaved over it for hours. I ended up using larger pasta (like lasagna noodles only they are about 3/4" wide) so made a bit more sauce and of course more cheese:) Baked in a 10" springform pan for 1 hour, to compensate for the size. Very satisfying and wonderful flavour. You could feed quite a few people with this as the slices don't have to be large. Especially if you are serving salad and possibly a meat dish. Thanks Nurse Janey for a great meal...with more for the freezer!!! Also, thanks for sending the Panko Crumbs...came in handy today. Made for TOTM Red Tag.
Heat olive oil in large skillet over medium heat.
Add garlic and saute til aromatic, 2 to 3 minutes.
Finely crush tomatoes and add to pan with puree.
Stir in tomato paste, anchovies,and red pepper flakes,.
Season with salt and pepper.
Cook 20 minutes, stirring often.
While sauce cooks, bring large pot of water to rolling boil, and add salt.
Add tagliatelle and cook according to package directions, until not quite al dente.
Drain well, turn into large bowl.
Toss with 2 TBSP butter to keep noodles from sticking together.
Add tomato sauce, olives, and 1/2 cup grated cheese to pasta.
Mix well to distribute ingredients evenly.
Set aside until cooled.
Heat oven to 300°F.
Use remaining butter to thickly grease 9-inch springform pan.
Dust with Panko, coating bottom and sides of pan.
Add mozzarella to pasta mixture, again mixing well to distribute cheese.
Scrape pasta into prepared pan, pressing to compact, and smoothing top.
Sprinkle with remaining grated cheese.
Bake 45 minutes.
Let stand 10 minutes.
Run a thin spatula around inside rim of pan to loosen.
Remove springform.
Using sharp knife, cut in wedges to serve.