Tomato, Mozzarella & Pesto Panini
Rita1652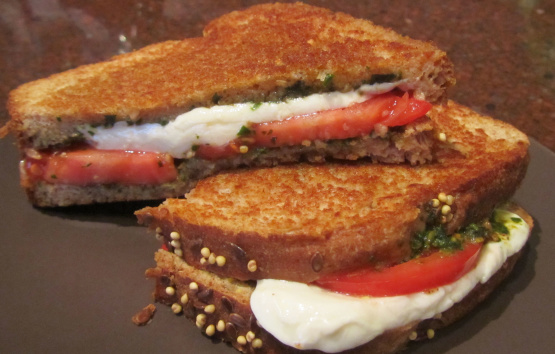 A delicious recipe from Ina Garten's cookbook, Barefoot Contessa at Home. If you don't have a panini press, that's okay, just place in a skillet with a heavy weight on top(foil covered brick, or heavy cast iron skillet, etc.) Enjoy!

I just love this. I would use ciabatta for this the next time. It would hold up to the juicy tomatoes and creamy pesto n mozzarella. No need for the salt so it was skipped. Used fresh home grown basil in Recipe #49909 for this Panini.Made in a skillet used a pan for the weight. Made for veggie tag. Thanks
Preheat a panini grill machine or a heavy skillet.
Core the tomatoes and slice tomatoes and mozzarella 1/4" thick.
Place the bread slices on a cutting board(or work surface). Spread each slice evenly with pesto. Place a layer of mozzarella(about 2 slices) on half of the bread and cover with a layer of tomato. Sprinkle the tomato with a little kosher salt.
Place the remaining slices of bread, pesto side down, on top. Spread the top and bottom of each sandwich with sotened butter.
Grill the sandwiches in batches on the panini grill for 2-3 minutes, until the mozzarella starts to ooze out. If using a skillet, place a weight on top(I usually use another heavy cast iron skillet, or use a foil coverd brick, or other flat, heavy object. Cook 2-3 minutes, turn and cook other side 1-3 minutes.).
Cut the sandwiches in half and serve warm. Enjoy!
Note:.
This is also excellent with a slice of roasted red bell pepper in it!