Tomato Macaroni and Cheese
Parsley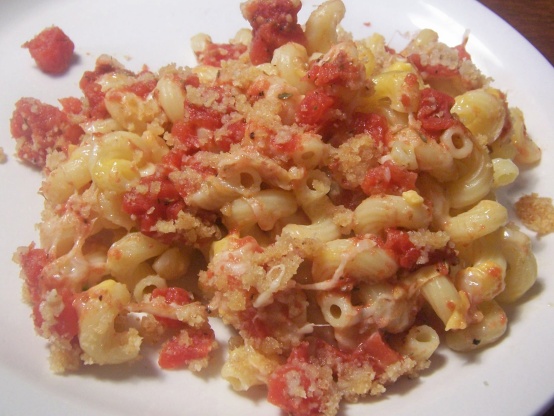 My mom used to make a recipe that is similar to this when we were kids. The smell and the taste of this tomato mac & cheese brings back wonderful memories... Adapted from The Complete Canadian Diabetes Cookbook.

Top Review by Mandy
This was okay but not nearly saucy enough for me, The tomato mixture had great flavour though & my 19 mth old daughter ate a little which was a bonus as she's not eating much these days. If I make this again I will be making a cheese sauce to mix through the macaroni before baking.
In large pot of boiling salted water, cook macaroni until al dente. Drain well and transfer half to well-greased deep 12-cup casserole.
Meanwhile, shred half of the cheese and dice remainder. Sprinkle half of each over macaroni in casserole. Top with remaining macaroni, then remaining cheese.
Stir together tomatoes, Worcestershire sauce, mustard, salt, thyme and pepper; pour over macaroni. Toss bread crumbs with margarine; sprinkle evenly on top. (Casserole can be prepared to this point, covered and refrigerated for up to 1 day. Bring to room temperature.).
Bake, covered, in 350F oven for 40 minutes and uncovered 10 minutes or until top is golden brown.