Tomato-Lime Vegetable Dip
Nif_H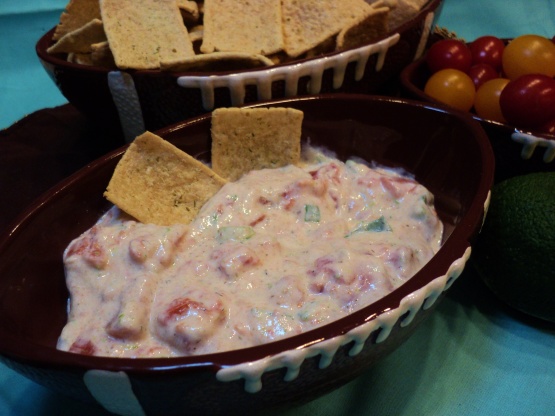 A healthier dip for raw vegies. Use a sour cream product like IMO or fat-free sour cream. Make sure tomatoes are well drained.

This was a very tasty recipe. I added a healthy squeeze of fresh lime juice to bring out the lime flavor. I had some left over so I heated it up and added some cooked jumbo peeled and deveined shrimp. I served it hot over fetticini pasta. Delish!!!! NO left overs then.
Mix all ingredients and refrigerate, covered, for 1/2 hour.
Serve with raw vegetables cut into decorative pieces. Use carrots, broccoli, cauliflower, celery etc. along with unusual vegetables such as fennel, endive and various colored peppers.