3 Reviews
This is a really delicious soup. It combines two of my favorite things - hummus and stewed tomatoes!
This really is a nice combination. I couldn't find creamy tomato soup and had to use the regular kind. Like the previous reviewer, I cooked the orzo directly in the soup rather than cooking it separately. I love .the garlic and the hummus.

Wow - what a great combination! Who would have thought to do this? I did veer slightly off the recipe, but the intent was the same. I could only find 15 oz. cans of tomato soup (not creamy), so I ended up adding a little half-and-half near the end. Rather than cooking the orzo separately, I added it to the tomato soup and cooked it for 9 minutes in that, then added the yogurt, hummus, etc. I think this would be great with different types of hummus - like garlic or red bell pepper. This was so easy and so satisfying. Thanks for sharing. Made for Spring PAC 2012.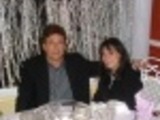 Tomato Hummusoup