WiGal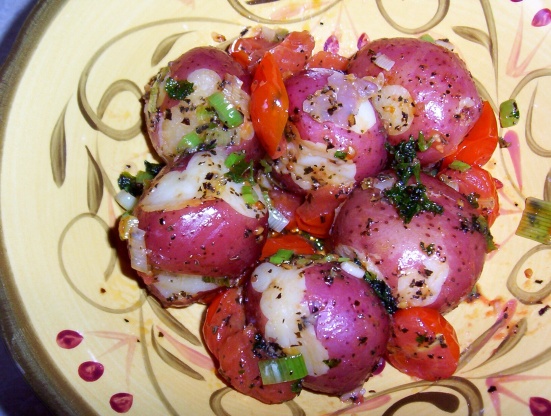 Found this in a potato cookbook picked up in a thrift shop. A nice simple side to make using fresh herbs & tomatoes.

My new potatoes were a little large and my cherry tomatoes really small - I would use more tomatoes next time or perhaps the grape tomatoes. I also probably doubled the herbs at least, added some lovage which adds a slightly bitter counterpoint that works really well with the other ingredients. I also halved my potatoes when adding them to the butter, just to help them absorb more of the herby goodness of the sauce. So delicious!
Cook potatoes in boiling water until tender & drain well, set aside.
Melt butter in same pan, add tomatoes, herbs, pepper & wine if using, saute for 1 minute.
Return potatoes to pan, toss gently until heated through.