Parsley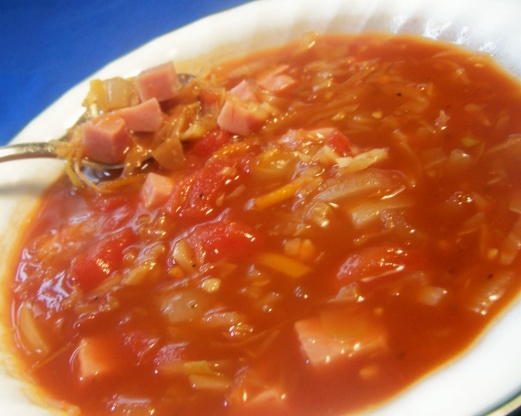 i found this recipe in good housekeeping magazine many years ago.....it is very yummy!i have changed a couple things to add updated ingredients.

I absolutely loved this soup! My family loved it so much they had to have 2 and 3 servings each. I just switched some of the veggies: 1 cup diced celery, 1 medium diced onion, 1 diced sweet potato, 1 can green beans, and I added cilantro and sriracha sauce at the end. YUM! mmm mmm mmmmm ~Thanks!!
cook cabbage,onions,shallots in olive oil, till limp.
add juice,tomatoes,water,sugar,lemonî juice,salt and pepper.
add chili sauce.
simmer 1 hour.
add ham in last 15 minutes of cooking.