Tomato & Garlic Bruschetta Bread
Nimz1466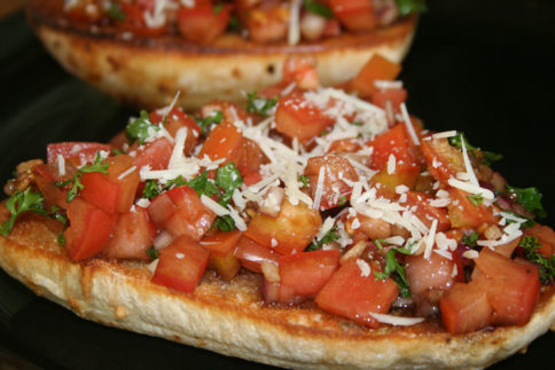 This appetiser is just wonderful with any dish! I love ripe fresh tomato with garlic and this dish is so well received at dinner parties! I have substituted apple juice for olive oil in part of this recipe to make the dish reasonably low-fat, some recipes call for 1/2 cup oil! The apple juice works beautifully with tomato!

It is a great recipe. I will try it soon. Keep them coming. J. Gino Genovesi
Mix roughly chopped tomatoes, onion, parsley & garlic, apple juice and vinegar in a shallow bowl.
Season with salt and pepper.
Cover bowl and let tomatoes marinate at room temperature for about 1-2 hour.
Stir occasionally to distribute flavours.
Meanwhile, heat the grill/broiler.
For the bread rub one side with garlic and brush with a little olive oil and grill/broil them oiled-side up until lightly browned.
Place a good 2-3 spoonful of tomato mixture on each slice and serve with a fork and knife.