Tomato Frikkadelle (Meatballs)
Zurie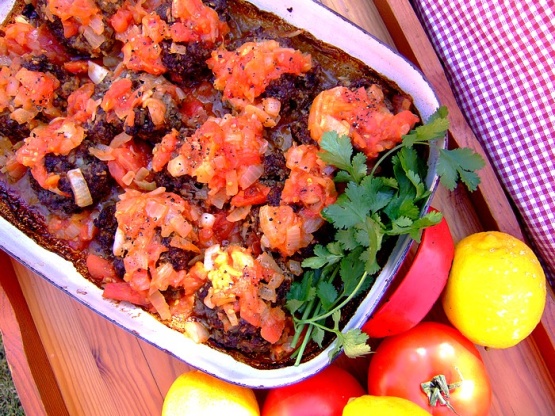 There is one prerequisite for frikkadelle which is that they be soft and juicy just like my mom's. This recipe does justice to this! The frikkadelle can be made smaller if so desired.

Top Review by Zurie
Well, it was clear to me that, if this your mom's recipe, she was a cook after my own heart: fast and simple! I didn't change a thing. I used everything exactly as stipulated. The (raw) end result was a mixture which felt just right. I was a little worried about the lack of egg and spices -- an egg to bind the mixture, and maybe more seasoning. I used fresh ripe tomatoes, but while they fried with the onions I did add a small teaspoon of sugar, because cooked tomatoes can be acidic whether ripe or not. This would be 5 star, except -- the cooking time given is too long. After 40 minutes the meatballs were starting to dry out at the tops. I did not dare try to "brown" when adding the remaining onion-tomato mixture, as the sauce had already reduced to almost nothing. I'd advise, if you want sauce, to double the amount given in the recipe. Also, as this was made for the Ground Meat Sept 08 feature in the Photo forum, I made them in the day for dinner that night, so I could have decent daylight to photograph the recipe. When I first tasted the meatballs I thought there was way too little seasoning. However, when warmed up later, the flavour had developed, and they were great!!! I'd say, make ahead, double the sauce, and heat up again! Thanks, Bokenpop!!
Preheat oven to 180C.
Peel tomatoes and onions and chop roughly.
Braise in oil until soft.
Mix half tomato and onion mix with mince and oatmeal.
Add milk, vinegar, Worcestershire sauce, salt and pepper and mix well.
Shape 14 large frikkadelle from the mixture and place them close together in a shallow ovenproof dish.
Mix the water and soup powder and pour this over the frikkadelle.
Cover and bake for 1 hour.
Spoon the remaining onion and tomato mixture over the frikkadelle and continue baking until nicely browned on the top.