Tomato Florentine Soup With Pasta
Lisa1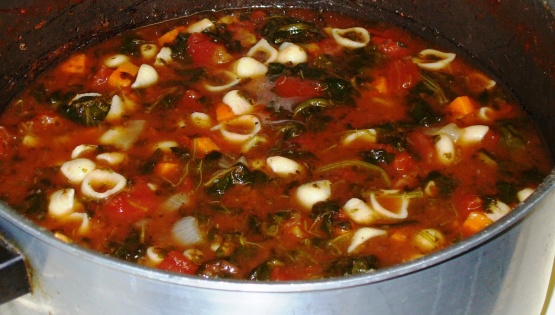 I had a yen for tomato Florentine soup last night, so made this with what I had on hand. I used a 14-oz package frozen leaf spinach and shell pasta but will probably use a 10-oz package frozen chopped spinach and ditalini next time. Was quite tasty served with hot, buttered French bread on the side.
Combine tomatoes, water, onion powder, basil, carrot, onion, bouillon cubes and salt (if using)in a large soup pot.
Bring to a boil. Reduce heat to low and simmer, covered for 10 or 15 minutes.
Add pasta. Simmer, covered, about 15 minutes longer or until pasta is tender.
Stir in spinach. Heat through.
Serve with grated Parmesan cheese if desired.