Diana 2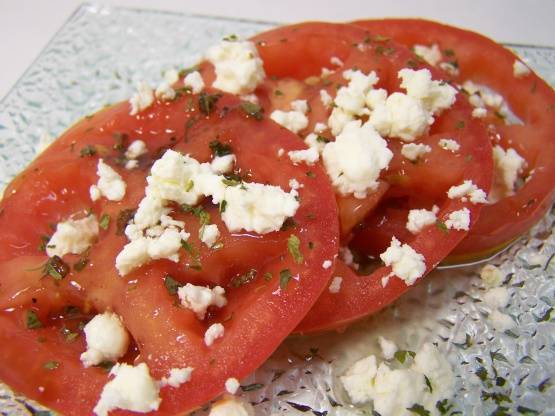 Wonderful salad to make when the tomato season is at it's prime.

I couldn't ask for a more refreshing, simple and bright tasting salad! Diana #2 recommended this recipe for inclusion in the http://www.recipezaar.com/cookbook/2010-Members-Picks-Cookbook-267184; after reading the recipe in the morning, it was on the table by nightfall. Even though I used hot house tomatoes in late April, they were still delightfully flavourful and rich. This salad came together in 5 minutes time and was served with a savory Shepherd's Pie to add a little lightness to the meal. I am chomping at the bit to try this with Summer Heirloom tomatoes!
Prepare dressing:.
In a jar combine the olive oil, vinegar, garlic, salt & pepper. Shake well. Set aside.
Just prior to serving, slice tomato, sprinkle with feta (and olives if using). Shake dressing well to combine and drizzle over all.