Tomato, Cucumber & Mozzarella Salad
Bev I Am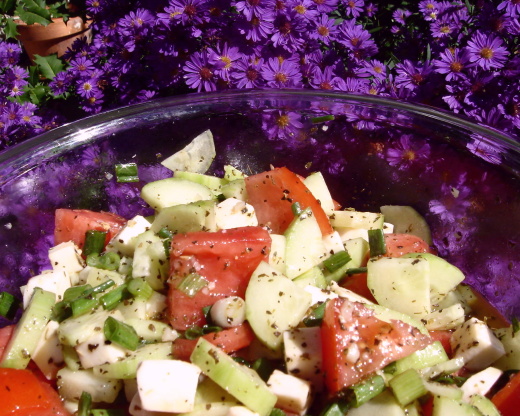 This is a marvelous salad that uses the same dressing as the marinade for my Grilled Stuffed Chicken (Grilled Stuffed Chicken). Prepare these two together for a fantastic summer meal.

Made this for supper. Used the vegetables exactly as stated but used purchased Greek Dressing as I thought the dressing ingredients sounded Greeky. Very good.
Combine 1st 5 ingredients and toss.
Mix oil& vinegar, add seasoning and whisk thoroughly.
Pour over salad.
Drain& set aside dressing that runs off.
(If preparing Grilled Stuffed Chicken with this salad – the remainder can be used as the marinade).