Mandy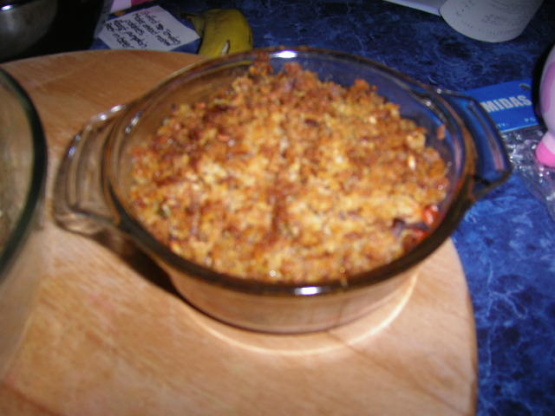 This is adapted from the Herald-Sun newspaper. Fabulous side dish, great with fresh tomatoes. This can mostly can be made ahead, just have the topping ready and pop that on, and into the oven. If you don't use fairly thick slices of bread, you may want to cut down on the olive oil slightly.

Top Review by Mandy
Sorry Sarah, I wasn't a huge fan of this, I think it was the mustard powder that ruined it for me. I did a half batch & it turned out really really juicy, too liquid in fact, even though I used only a sprinkle of oil in the breadcrumbs. I used fresh basil & parsley & some dried oregano. Despite not really liking the flavour the mustard powder gave the dish, I did like the crumble topping. I used a crust of some wholemeal grain bread instead of sourdough & it was much nicer than the pkt breadcrumbs I tend to use in tomato pies so thanks for that tip!
Preheat oven to 180°C.
Grease a 4 cup capacity baking dish.
Core and thickly dice tomatoes, Slice onion into thin rings and roughly chop fresh herbs.
In a bowl add tomato, onion, herbs, mustard, salt and pepper. Toss well to combine.
Add mixture to baking dish.
Coarsely chop bread - use a food processor, and pulse until you have coarse crumbs.
Toss with olive oil, pile on top of tomato mixture.
Place in oven and cook for 30 minutes or until nice and brown and bubbling.