Tomato Cream With Herbs (Soup)
Deantini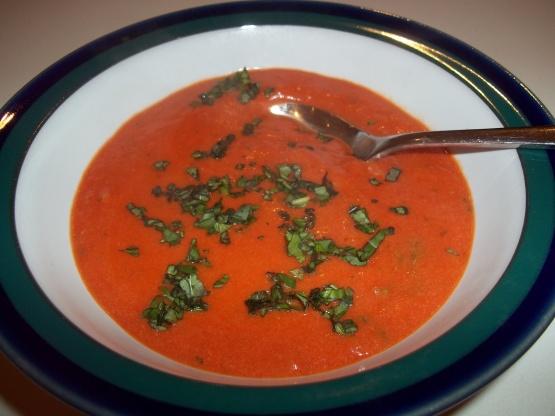 This is from Qu'est-ce qu'on mange Volume 3. I did this recipe so many times when I was living with my parents. It was always a success with guest. And it's so simple.

Nice, creamy and quite thick tomato soup - I pureed it a bit to incorporate the onions into the tomatios and thenI added some dried parsley and a bunch of fresh basil. I will probably add some broth to our left overs as we found it a bit on the thick side.
Melt butter in a saucepan.
Cook onion 5 minutes, just to soften it. Do not let it begin to golden.
Sprinkle with flour and stir about 30 seconds.
While stirring, add gradually milk.
Bring to boil stirring constantly.
Add tomatoes and keep cooking while stirring until it begins to simmer.
Season with herbs (it can be parsley, chive, celery leaves, thyme and basil).
Add salt and pepper.