Tomato Cream Sauce With Rigatoni
alligirl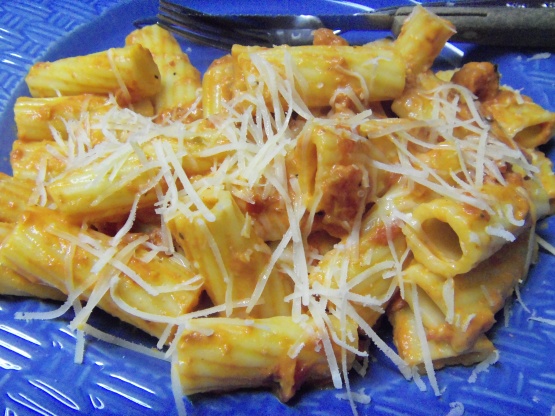 I've tried several tomato cream sauce recipes. Some with sausage, some with chicken and some with shrimp. All very good but this one is my favorite. A very large recipe. Easily enough sauce for 3 pounds pasta. If you are not feeding an army go ahead and make full sauce recipe anyway and freeze the leftover sauce. It thaws and reheats very nicely. I typically buy the large can of San Marzano tomatoes at Costco. It's so much cheaper. I really think there is a difference in taste with the San Marzano. Just be sure to buy tomatoes that are packed in puree. Makes the sauce even richer. Adjust the seasonings as you like. I seem to make spicier every time I make by adding more garlic, and red pepper. So good!

This dish was GREAT! Tangy and robust, I was well rewarded for the small amount of work to make this sauce. I reduced the recipe to 1/4 of the original, cooked 2 1/2 oz. of dry rigatoni and that was a hearty serving for 2, with enough sauce left for at least 1 more meal for two. I can't decide if I wanna share the leftovers, or freeze them cause I'm greedy! LOL I'll probably share - I have the recipe now! Thanks for sharing, HotMitts! Made for PAC Fall '12.
In large pot cook bacon and onion until bacon close to well browned and onion soft. About 8-10 minutes.
While bacon and onion are cooking crush tomatoes by hand in large bowl.
Deglaze pot with wine over high heat. Scrape bottom of pot to get all the brown goodness off. Continue until wine is evaporated.
Add oil, garlic and red pepper flakes to bacon and onion. Cook 1 minute.
Then add tomatoes, sugar, basil, salt, and pepper to pot. Bring to boil.
Then lower heat to med; simmer 1 hour uncovered.
Add in vodka simmer 5 min then stir in parmesan and cream and cook for 5 min until cheese melted and sauce heated through, stirring constantly. Taste for seasonings.
Keep heat on low until ready to serve.
Pour several ladles sauce over hot pasta in a big bowl. Give it time to absorb a bit before serving.
Serve with freshly grated Parmesan and crusty garlic bread to sop up all that beautiful sauce.