lazyme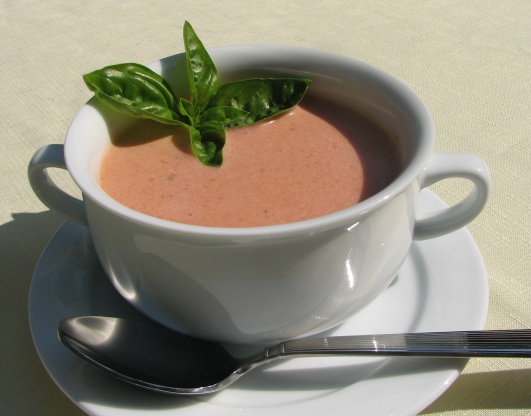 I had this soup this past weekend at a wedding up in Maine and I thought I was in heaven. The chef told me the basic ingredients and I went on a hunt. I found this recipe and made it tonight. The exact same thing I had. Originally it came from a place in New Hampshire :)
Chop the onion and saute in butter for 20 minutes until soft and translucent but not brown.
With your fingers, squash the tomatoes; add them and all liquid in the can to the onion. Add basil brown sugar and stir.
Bring the soup to boil, then simmer covered, for 30 minutes.
Set aside and cool slightly, then puree the soup in a food processor.
In a small saucepan heat the cream with sugar, whisking often. Pour this mixture into the soup.
Reheat, but do not boil.
Just before serving, add the cognac and season with salt and pepper.
Garnish with parsley and serve.